SILVÉRION
®

2400 is a water-soluble natural antimicrobial preservative containing Silver Dihydrogen Citrate (SDC), a revolutionary, novel ionic silver
technology for use in personal care formulations.
Features and Benefits
Stand-alone preservative in many formulations
Easy to dose and formulate
High bio-availability in the water phase
Cost-effective preservative
Use in diverse product forms, including clear gels
Effective alternative to formaldehyde donors and parabens
Broad spectrum activity
Low viscosity solution
Excellent water solubility
Effective at low concentrations
Compatible with a variety of preservatives
Good compatibility with cosmetic ingredients
Cosmetic formulators need alternatives to existing preservation technologies due to toxicological concerns,
insufficient efficacy or incompatibilities in formulations. SILVÉRION 2400 is an effective alternative
that does not compromise quality.
Effective Preservative for Rinse-off and Leave-on Formulations
SILVÉRION 2400 shows broad-spectrum efficacy against Gram-negative and Gram-positive bacteria, yeast and mold. Preservative challenge tests
demonstrate excellent efficacy in diverse formulation types.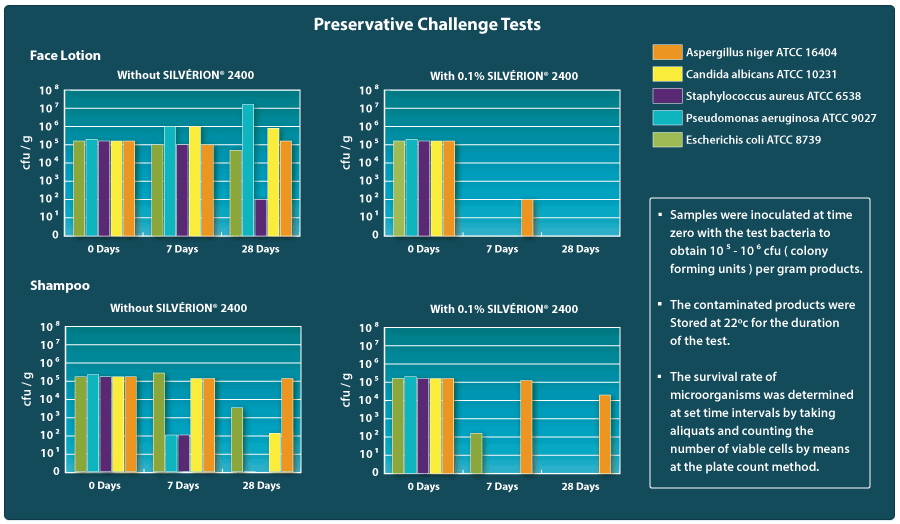 Versatile Use
Proven effective in rinse-off formulations containing anionic, non-ionic and amphoteric surfactants.
Emulsions of o/w and w/o type containing anionic and non-ionic emulsifiers can be preserved with low concentrations of SILVÉRION 2400.
0.1% - 0.3% SILVÉRION 2400 can act as a stand alone preservative in many formulations.
Can be combined with most common preservatives in formulations that are difficult to preserve.
Easy to Formulate
Low viscosity liquid which can be easily dosed and incorporated into the aqueous phase of gels, surfactants, and emulsions produced in cold process.
Stable in a variety of formulation matrices.
When manufacturing emulsions produced by hot process, SILVÉRION 2400 must be added to the final formulation after the emulsion has cooled.
Exposure of SILVÉRION 2400 to pH higher than 7 should be avoided to achieve optimal formulation stability.
Use Levels
Typical use concentration of SILVÉRION 2400 is between 0.1% to 0.3% in leave-on and rinse-off formulations.
 

Copyright © 2020 PURE Bioscience, Inc. All rights reserved.
SILVÉRION® is a registered trademark of PURE Bioscience, Inc.